Join the hundreds of others who are using this powerful Vision Force technology to BE the change you seek in the world.
Visionary Mind is not about being good or great in other's eyes. It's about your relationship to yourself. You'll discover honor and vision as forces of consciousness, and you'll learn how powerful and natural it feels like to be guided by them.
As you do the special exercises in this program, you'll see a vision that calls to you so deeply that you simply can't ignore it. You'll come into such deep alignment with your unique vision, you'll experience your "call" to greatness--inner greatness.
Unlike other programs, you won't get any advice or "answers" from some authority figure. Instead, this program is comprised of provocative questions, tools and exercises that take you on an inward journey that is all your own.
It's not about motivation, discipline, goal setting, visualization or anything with which you're already familiar . And it's not religious or New Age. No matter what your beliefs or what discipline you practice, this program works to get you more deeply connected with your self, your values and your vision.
The result is the freedom and power to follow your vision to the ends of the earth.
For you, greatness is not an option. You know you are a visionary. Visionary Mind will enable you to step powerfully into your role as a visionary and rapidly create the change you seek in the world. Here's a list of some the benefits participants have experienced with Visionary Mind:
Grace and ease - many participants experience themselves now being in action naturally and without struggle. They experience themselves easily acting on the things they used to avoid, without any need for motivation, discipline or extra effort.

Freedom from guilt - The exercises in Visionary Mind work to re-orient our minds from guilt-avoidance and fear-avoidance to honor-centered and love-centered. There is a great freedom that is experienced as guilt is removed from the picture.

Renewed hope for humanity - Most of us have deep rooted assumptions about human nature and life itself that make us fundamentally doubtful, distrusting of ourselves, others and our future.

Power - Participants experience a sense of coming home to their power. The feeling of honor they learn to create and feel inside Visionary Mind gives them an access to natural power.

Creativity and courage - The experience of vision inside this program opens up new paths that "call" to you. For example, many find themselves leaving their current job to follow their heart and start a career or a business they are passionate about.

Honor - Imagine regarding your responsibilities in life, not from a place of obligation, but from a place of sacredness. Honor is a feeling that is felt as you come to redefine your relationship to your values in a sacred way.

Financial breakthroughs - Not the least of the benefits commonly experienced by participants is dramatic breakthroughs in their financial life or business. Some to the tune of tens of thousands of dollars inside just a few weeks. (Of course, everyone's experience is different and your results will depend entirely upon you.)

Sense of Purpose / Heroic vision - Many of us find ourselves waiting in life. We're looking for our purpose or searching to find that one perfect opportunity, when all we ever needed was a vision that called deeply to us. You get that inside this program--a vision that calls you into swift action.

Wisdom - The concepts and tools in this program give you insight into yourself and others on a systems level. With tools such as the Inner Conflict Diagram, you'll come to better understand the dynamics that shape our choices in life.
Some participants have credited this work with saving their marriage; ending their addictions; the freedom and power to start a business, leave a job, leave a negative situation, etc.
>> Order Today for $277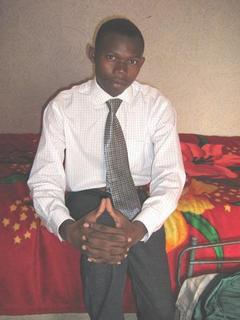 Meet Clovis, a 23-year-old native of Uganda, where poverty, famine, disease, corruption, tribal warfare and despair are part of everyday life.
Clovis like many others his age had often felt quite powerless to challenge the status quo of his war-torn society.
He'd hoped that studying hard every day and getting a government scholarship to university would be his ticket to a better life. His family was counting on it.
Yet, in the summer of 2006, as he was about to graduate, Clovis began to lose hope. He'd seen university graduates walking the streets for years looking for jobs. Would this be his fate?
Clovis takes a stand
Then in July, 2006, Clovis downloaded the Vision Force 101 program from a university computer, and everything changed. Clovis saw a vision for his life and his country he'd never seen before. So deeply did it move him that he knew he could no longer sit idly by and watch Uganda fall deeper into the throes of ethnic warfare and civil strife.
He immediately began sharing his vision, holding local workshops, speaking on Uganda national radio, blogging on the internet and and teaching weekly informal Vision Force classes at Makerere University.
Imagine millions of young people standing together as a united front for a more just, equitable, and prosperous future. Imagine millions of youth with the tools to unearth and sustain their natural vision--fully "getting" that they are the ones they've been waiting for.
It's your turn...
>> Order Today for $277
What Do You Get?

We've created a large package of technology for you to fully "get" the Vision Force technology. Here's a list of what you get inside the Visionary Mind package:

The full 8-week program on Audio CDs, professionally recorded by Michael Skye coaching you step-by-step through the powerful Vision Force technology. Some participants even call Visionary Mind the "Boot Camp in a Box"... because, it's as if you're right there at Boot Camp working one-on-one with Michael.


100 page, 3-ring binder Workbook, with comprehensive checklists, worksheets and assignments designed to guarantee your success.


10+ hours of live recorded conference calls (MP3s) We give you the entire Vision Force 101 program (normally $397) on a digital CD--as a perfect supplement to Visionary Mind. Listen to participants do the exercises and learn from their insights as Michael works with them on LIVE conference call recordings.


Access to private on-line member area, where you can interact with other students for years to come.


3 FREE Bonus audio trainings to complement the program:


Entrepreneurial Vision - Why do great entrepreneurs seem to have a power that others do not? Learn their thinking process.

Art of Verbal Integration - Learn an invaluable skill for accelerated learning and powerful self-coaching

Secrets of Staying Awake - Gain advanced practices for self-mastery and living at the level of vision.

>> Order Today for $277

Get Your Copy

Are you ready to unleash your inner greatness? Here's how to get your copy of Visionary Mind:

1. Decide which payment option you'd like:

>> Order Today for $277

Or, by Phone: 1-877-844-6667

2. Make sure and read our 90-Day Guarantee:


Our 90-Day Guarantee
We want you to be happy. So, take 3 full months to go through this powerful program, and if you don't agree that it's everything we promised and more, just ship it back and we'll refund your entire purchase price (less shipping & handling and a 10% restocking fee).

3. Make your investment: